24.09.2018

If you are a landscape photographer and you combine that with hiking then a backpack is an ideal bag for a photographer.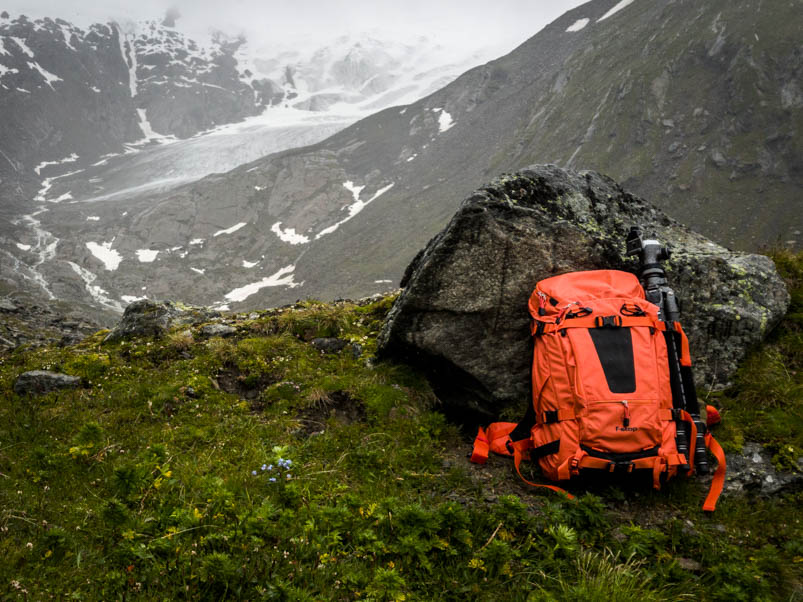 F-Stop Tilopa with Gitzo Mountaineer.
The first question should be what bag do I use. It's a F-Stop Tilopa. This backpack is so reliable and durable that I have no doubts when I find any new requirements for transportation. The idea of the internal camera unit (ICU) is just comfortable for any kind of demand. At the moment I'm using a large pro ICU when I'm en route. And there is still room for other stuff in the main compartment and you have smaller compartments where you can put your keys and wallet for example. And of course: the tripod. I carry it on the side of the backpack. But the most important when you are hiking for me is the hydration and the weight of your backpack. The Ajna offers the possibility to mount a hydration pack (2 liter) in the backpack, this allows a comfortable way of drinking without to stop and the weight distribution is always balanced. The backpack can handle up to 50 Liters, that means in my case: two camera bodies, three lenses and accessories.
So, what's in my bag?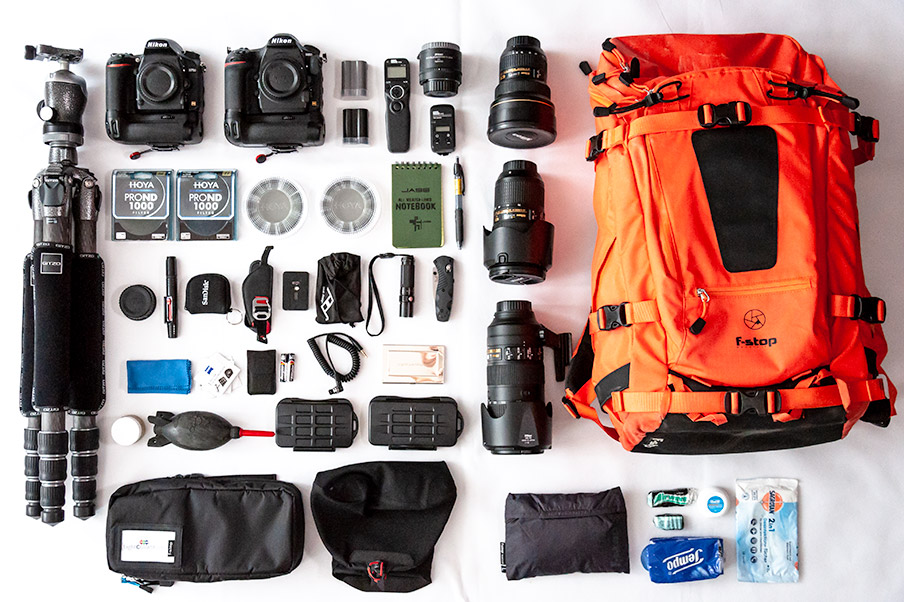 Complete content.
Nikon D850
Nikon D750 with battery grip
Nikon 14-24 mm f/2.8G ED
Nikon 24-70 mm f/2.8E ED VR
Nikon 70-200 mm f/2.8E FL ED VR
Nikon Teleconverter TC-20E III
Gitzo GL3542L with GH3382QD (tripod with ballhead)
2 Hoya Pro ND 1000 filters (77 mm and 82 mm)
2 Hoya HD Pol Filter (77 mm and 82 mm)
2 extra batteries (Nikon EL-15 a and b)
Nikon ML-L 3 (IR control)
Remote Controller
Remote Receiver
proper cable for the receiver
weather shell for the camera from Peak Design
wrench for the Peak Design plates
rain shell for the backpack
2 SD/XQD card cases
lens cleaning cloth (wet) from Zeiss
lens cleaning cloth
air blower
lens pen
weatherproof notepad
pen, which can write on every surface
case for business cards
hydration pack
knife (Benchmade Mini Barrage)
flashlight (Fenix PD 25)
tissues
hygienic wipes
chewing gum
lip balm
dental floss (during hiking I eat oat bars with any kind of nuts and dried fruits – this ingredients leave their traces)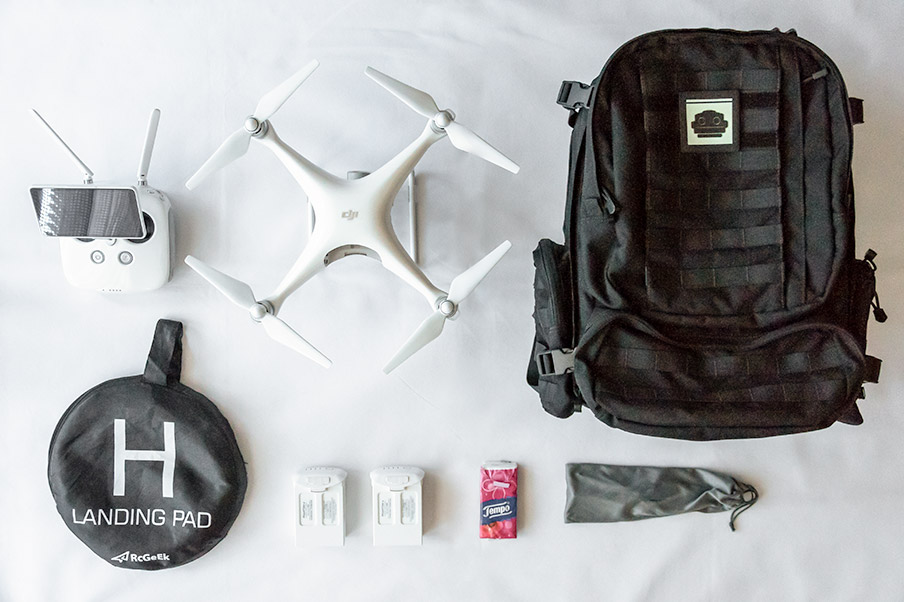 My backpack for my Phantom 4 Pro.
DJI Phantom 4 Pro Plus
Controller
Landing Pad
2 Batteries
Replacement Propeller
Tissues
With all this content I'm at over 14 kg – without hydration pack. So with a filled hydration pack I'm at round about 16 kg. That is ok for short sessions up to 12 kilometers, all about it will be quite exhausting. The most of the time I leave the D750 at home excep I wann shoot timelapse, The Tilopa is way better than the Ajna for long carrying. The bag is much more orientated to normal hiking backpack because of the thicker shoulder straps. My first camera bag was the model Ajna which is more for so called "destination shooters", According to the F-Stop marketing. I think this describes well the intended use for the Ajna.
My drone bag isn't that spectacular packed, but it's just to take the drone to places where I cannot go by car. Usually I have a security crate what is very practical, because the propellers can be mounted during transportation, but it's very heavy and the dimensions make it complicated to transport the drone in this combination. So I got also a backpack from Drone Crates for the Phantom 4 Pro. This bag is very generous in questions of space and the most important: the Phantom is well protected in there.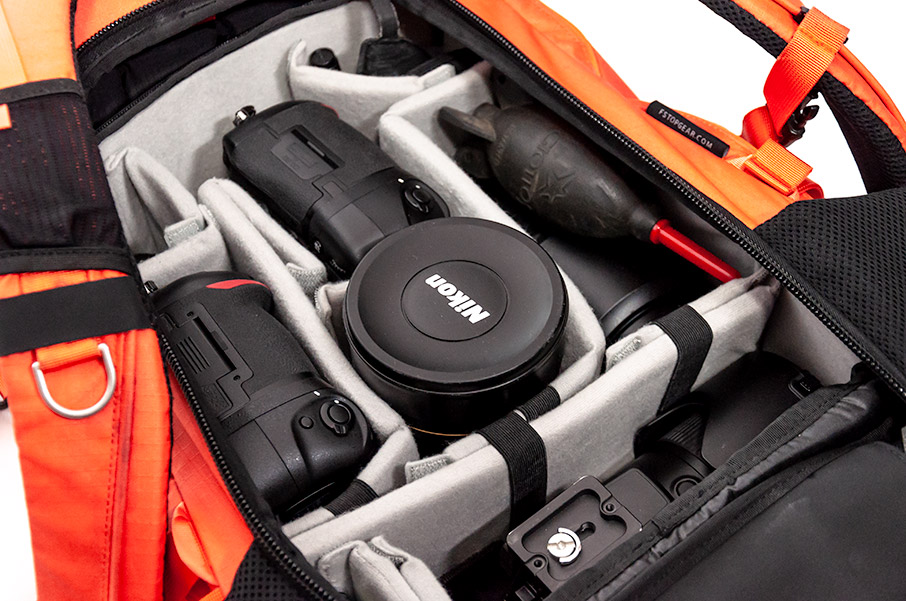 Fully packed Tilopa.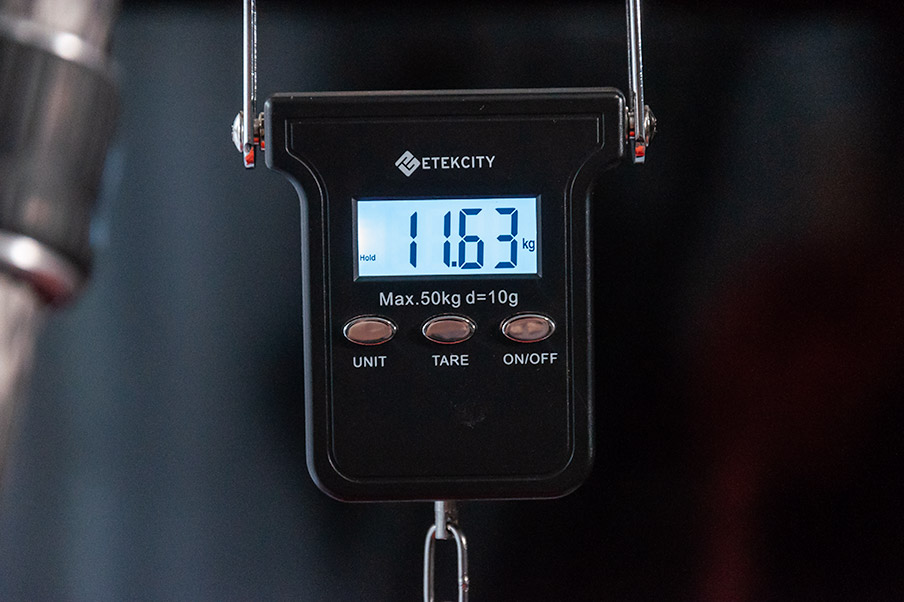 Backpack without Hydration pack and tripod.
With this camera equipment I'm prepared for almost any situation. Nikon's new battleship the D850 is just pure delight. 45 megapixels which are almost easy to handle as the 24 of the D750. The D850 is only a little more light hungry than the D750, but when you have the fact in mind you will take detail striking pictures. For more read the Review here. The 14-24 mm zoom lens offers me an ultra wide angle until to more normal 24 mm without any compromises in image quality. The two other lenses are without any doubt on the same level. With the 24-70 mm I take the most of my photos because it has the most "natural" focal lengths, especially at 50 mm it is always interesting how the composition works. And the 35 mm focal length is also interesting, because it is the best mixture or boundary between normal and wide. If you have a spaciously landscape in front of you, then the 70-200 is also a good decision for a nice photo. For a distant mountain range it offers almost always the right focal length. And it offers a good base for animal shots, my last lens addition was the TC-20E for really far motifs I can double the 200 mm to 400. Thats very useful and the results are impressive: for more you can read my article where I was invited to a car race where I used the 70-200 in combination with the teleconverter.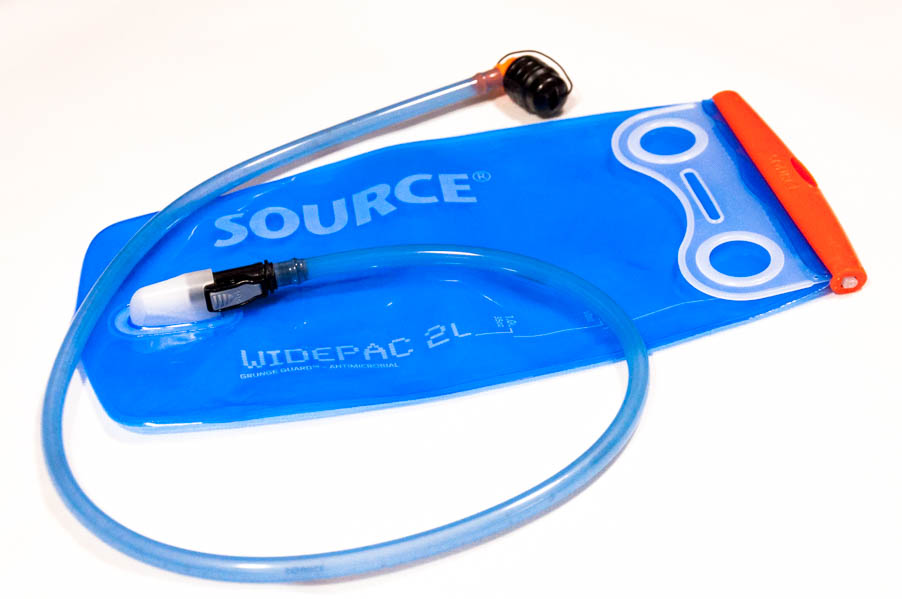 Hydration pack.
I'm carrying always the cleaning equipment with me, one of the most important parts is the air blower. I'm using it almost always before I start to juggling with the lenses. The wet cleaning wipes are necessary when you have water spots or other tenacious spots on your glass elements. And of course a normal lens cleaning cloth when it starts to rain for drying, for example.
I want to be honest, I used the notepad rarely because of my smartphone. But you never know, you can run out of battery power, it can be damaged and so on. A (weatherproof) notepad is reliable addition in your bag. A flashlight is a commandment for me, I have always one with me not only in my camera bag, it's an EDC part for me. There are a lot of situations where you need an extra light. I rarely use the knife, but it's always good to have one with me and these two tools are always accessible because of the extra pouch (Tasmanian Tiger Tac Pouch) which is mounted per MOLLE-system to the Tilopa. Practical.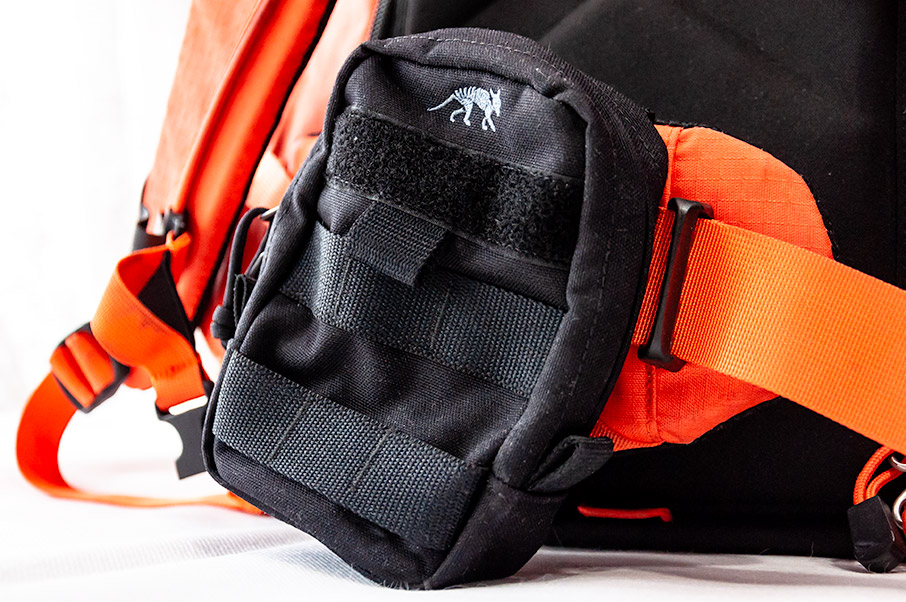 Tasmanian Tiger Tac Pouch mounted via MOLLE and secured additional with paracord on the back.
And for hiking requirements, things like tissues and cleaning wipes are absolutely important. And have always some chewing gum with you.
This setup I'm using the most time. I also have the Nikon 28–300 mm 3.5–5.6G ED VR, but since I bought the 70-200, which is far superior, I use the 28-300 only very rarely. 100 mm more sounds at first interesting but when you compare these two lenses in case of image quality the 70-200 is so much better. And of course my 50 mm 1.4G, but this only for people photography and filming.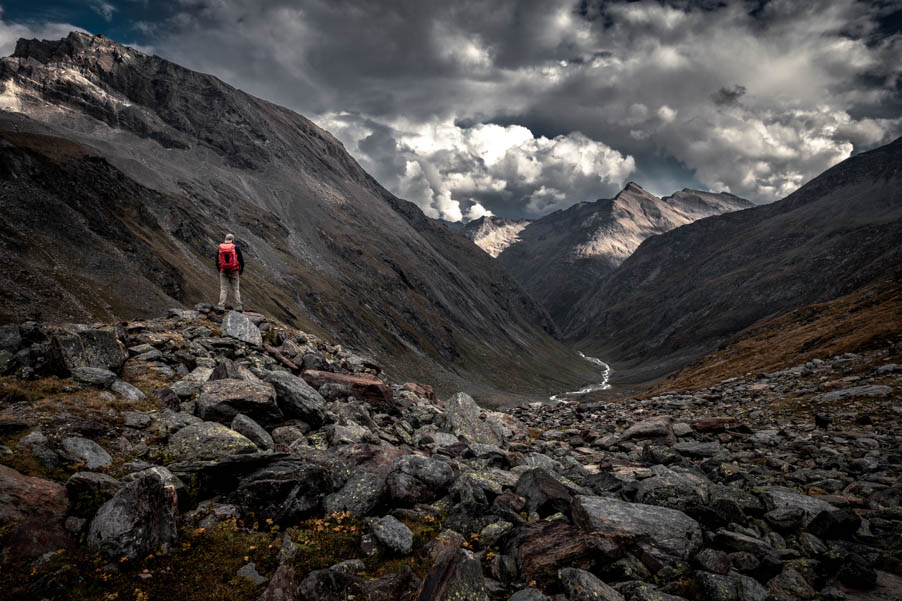 View in the Umbal Valley in Austria close to sunset.
So what do you think about my setup? Do you have any suggestions for improvement or recommendations? Leave a comment.