11.06.2018

As mentioned in part one, the flora of Iceland is unique, trees are very rare and the landscape is embossed by moss in every imaginable color. There are square-kilometre fields of cold lava stone which in turn are covered with dense moss what make you think you are on another planet, like in a science fiction film.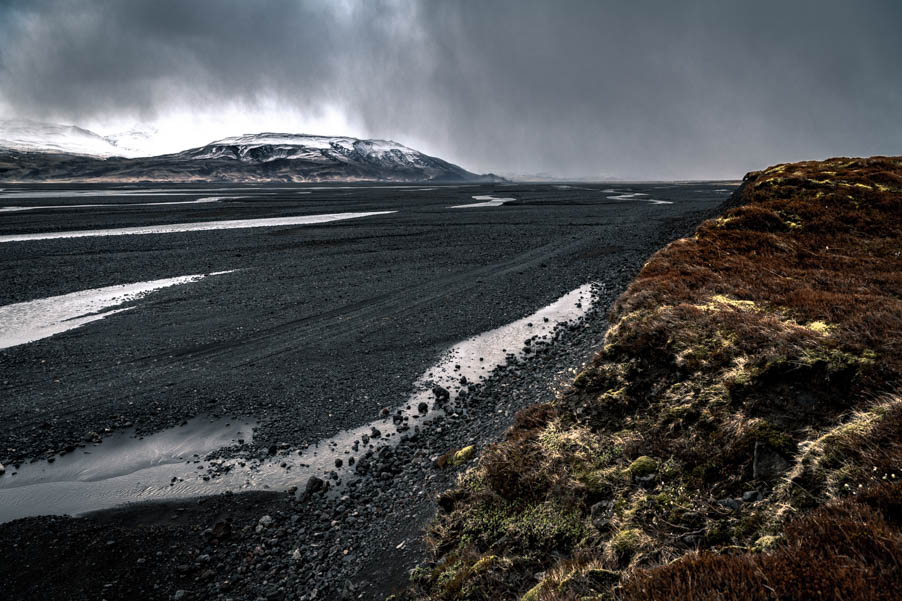 Extremely changeable weather: snow, rain and hail every minute.
Then there are so many black mountains which get a really moody look in the right light. On our second try to Arnastapi we drove at last to one of the black beaches, this was also really stunning, even with an almost no visible sunset.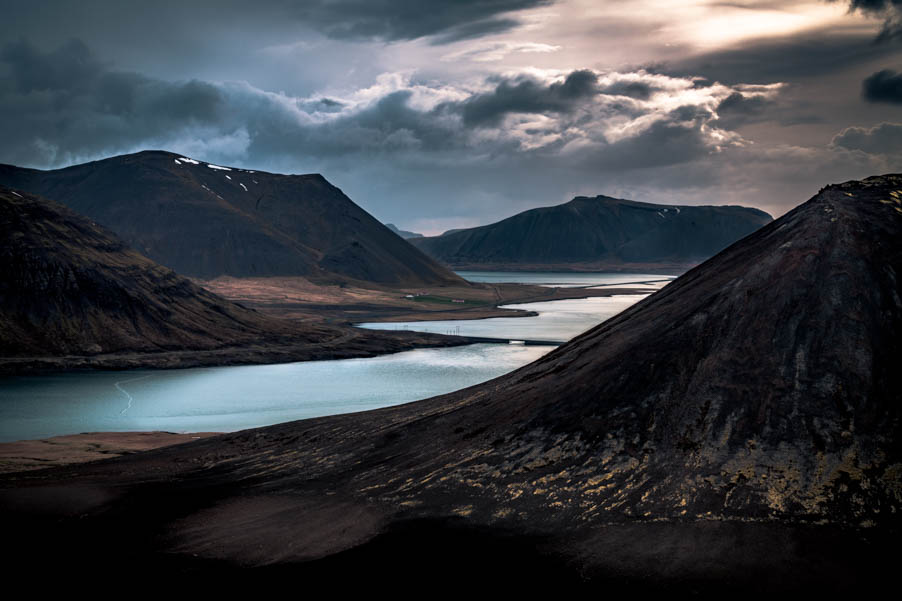 A huge fjord in the west of Iceland.
A black beach at sunset.
On the other hand we had these rays of hope like a full rainbow which already disappeared after 5 minutes. Or when we hiked to the Glymur waterfall we had the luck that the sun came out for several seconds and I could capture this dramatic lighting with a beautiful scenery.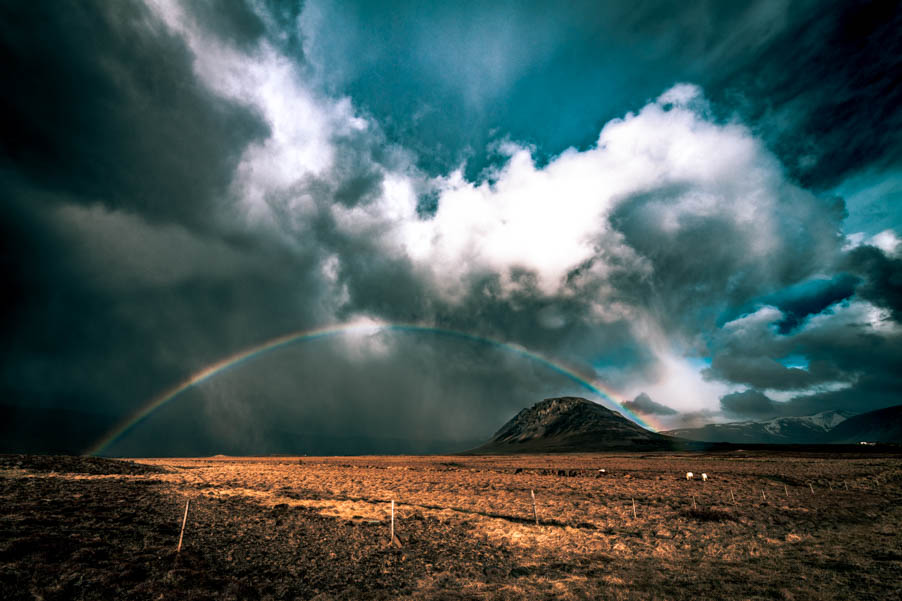 On our way to Glymur we discovered this rainbow.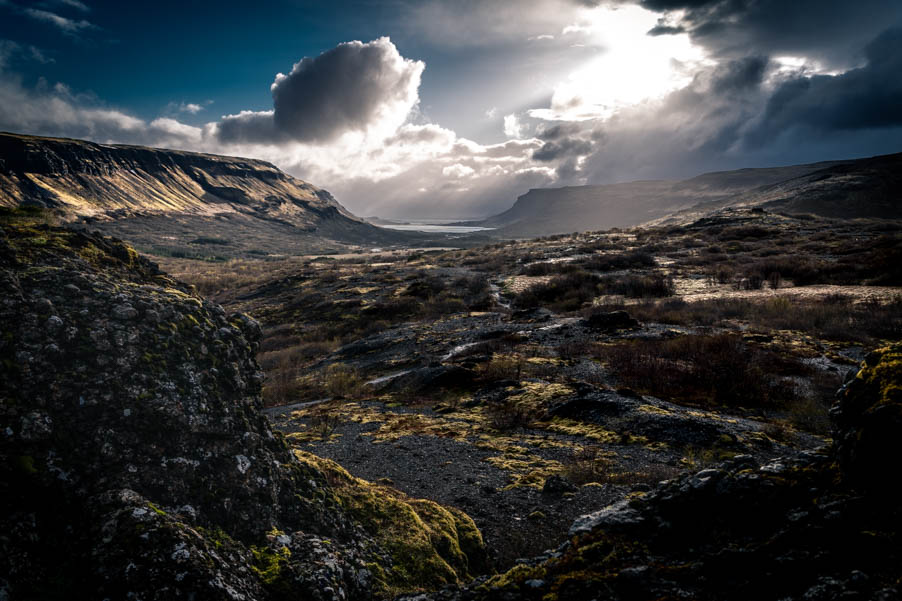 The outcome of the sun created this absolutely beautiful scenery. One of my favorite shots from Iceland.
We tried it two times to drive to Þórsmörk, but with no luck. But we had fun during the offroad drive, we drove through riverbeds and the whole road was made of tennis ball big stones. Sometimes we thought it would break the car, but it was robust enough and could protect us well.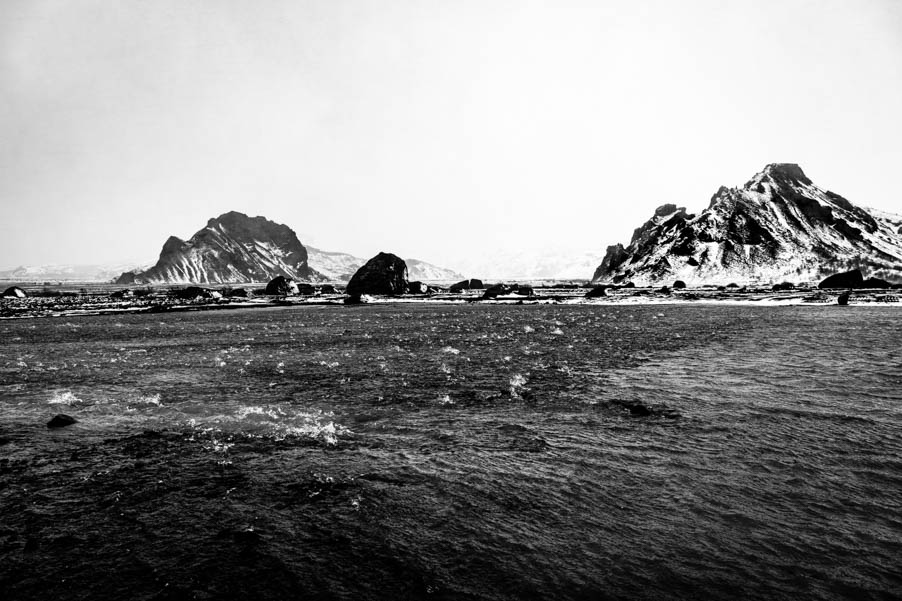 A rough landscape and a rough weather.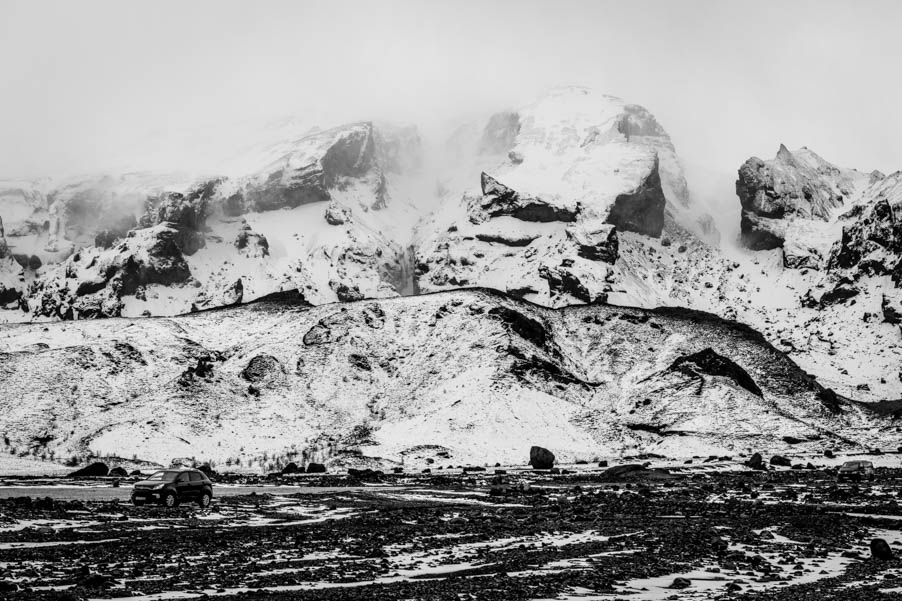 Behind this respectively up there was was the volcano with the inexpressible name Eyjafjallajökull. In the left corner you can see our car.
What was really astounding was the volcano crater Kerið. Once a volcano now a lake fed by groundwater. I wanted to take some shots with the drone but it was extremely windy. The drone was permanently pushed away from the wind, so I had to go to land it after several minutes. But all in all this place was also very impressive, because of the wonderful red sand and the turquoise water what gives a great combination.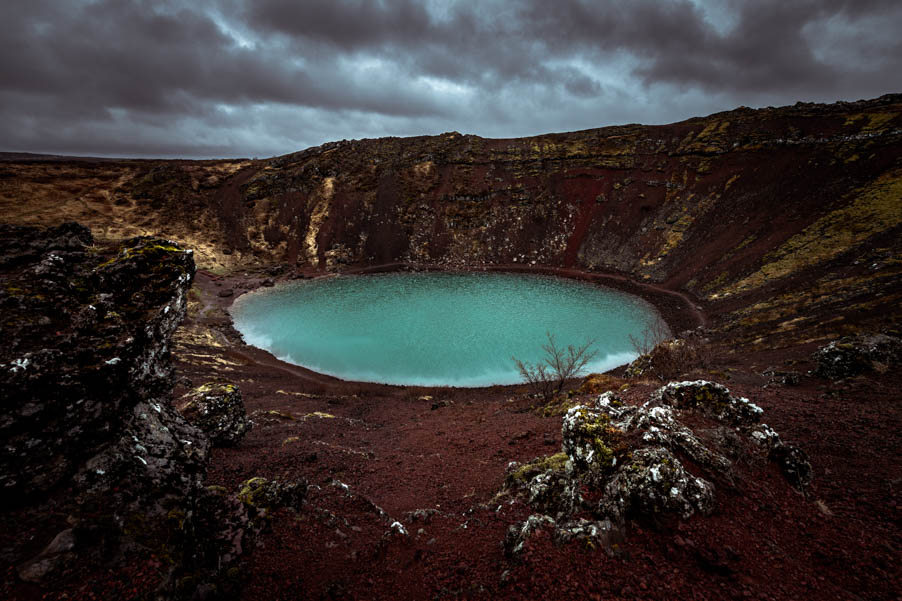 The crater Kerið. Just 45 minutes by car far from Reykjavik.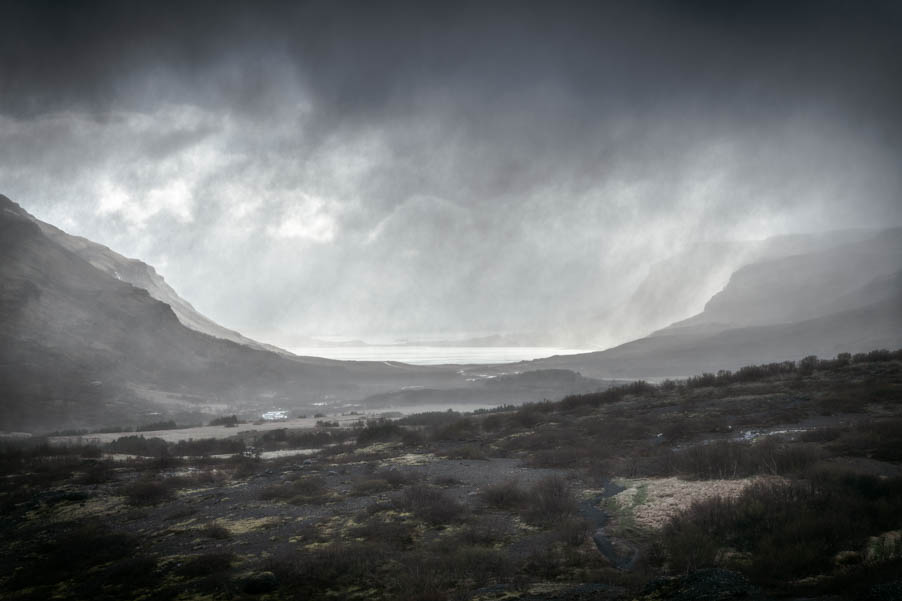 Waiting for sunlight.
Unfortunately we had to stop the hike to the Glymur waterfalls because there was no tree trunk there that would allow us to pass the river. But we spotted another nice place to make some good shots. The Seljalandsfoss is well visited and easy to reach, without hiking or something. We spend there our last hours until we drove back to the hotel and prepared us for the return trip.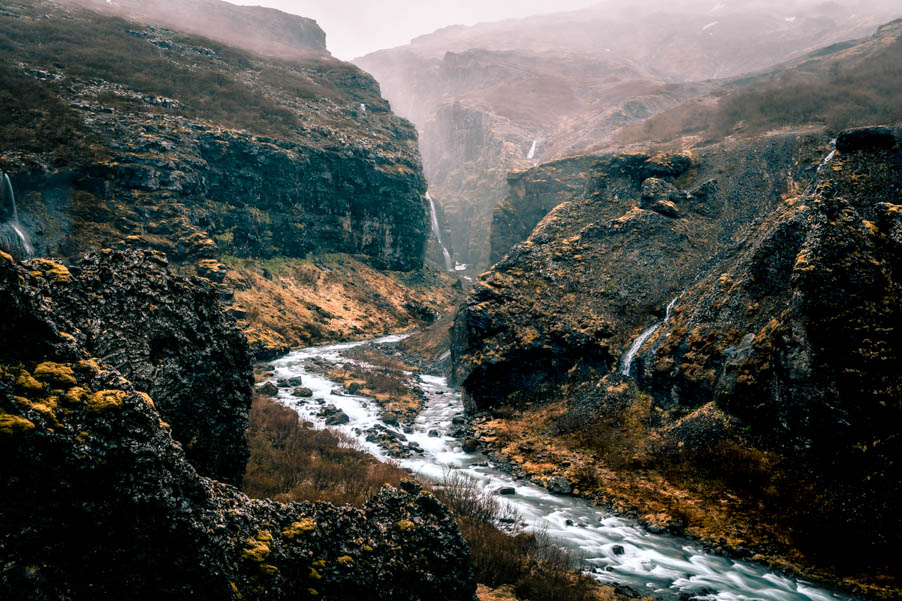 The Glymur waterfalls.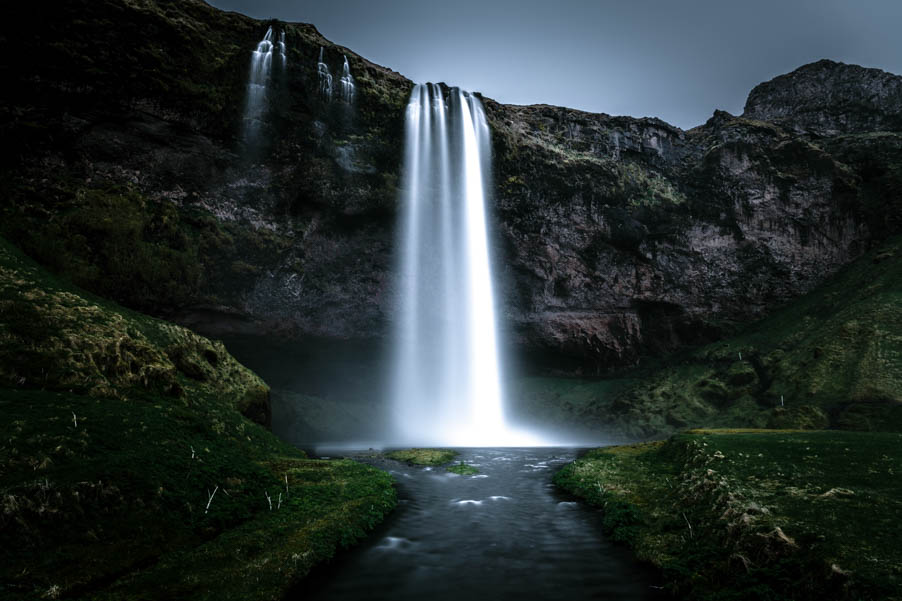 The Seljalandsfoss at the evening with less people around.
Iceland offers just a fantastic and unique landscape. Sometimes as a townsfolk you are overwhelmed because of the really huge vastness and as a photographer you are overstrained what you want to shoot next because there are endless possibilities. No matter how bad the weather was, it made always fun to discover this country. As you can see a large part of the pictures have a really moody look, but I like that. Direct sunlight was very rare but these landscape look also beautiful in rain and thick clouds.
We spent there only six days. We visited the west and the south west and there is so much to see and to discover. I will visit this Island by all means again. It's not the cheapest trip, because of gas for the car the car itself but these are impressions no one can ever take from you again. So forget all the money and other outlays – Iceland gives you so much in return.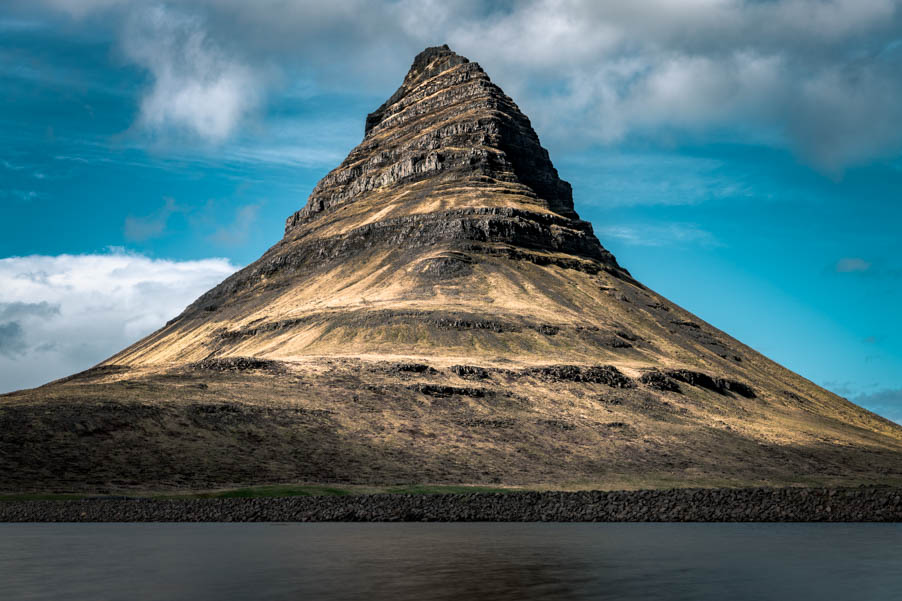 The iconic Kirkjufell mountain.